STOP SIGN PADDLE COVERS for ADVANCE FLAGGERS
$25.00 + $5.00 s/h USA
PADDLE COVER ONLY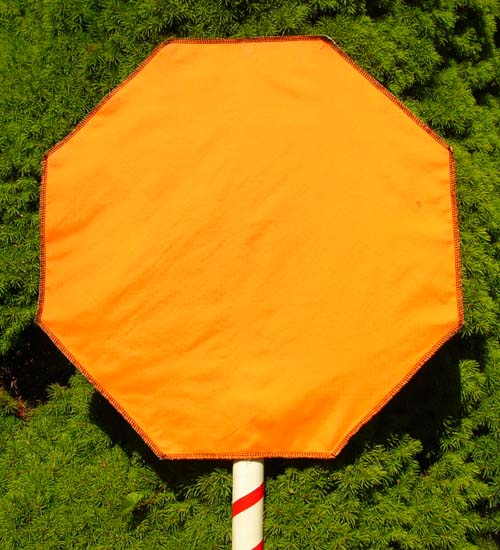 These sturdy and flexible 18 inch stop sign paddle covers are designed for the ADVANCE FLAGGER*, also known as the PRE-FLAGGER.
Each stop sign paddle cover is 100% ripstop nylon in highly visible safety orange.
Velcro is used for easy, no fuss attachments and quick removal in emergencies. The ripstop nylon material is super lightweight and dries quickly.
No more messing with soggy cardboard that curls up in the rain, or ugly tape, or losing hard-to-use metal clips!
Perfect gift for your special flagger! They'll love it!
Look professional on your next flagging job!
Ships to USA addresses only.
*Advance flaggers are the first flaggers you see when driving into a work zone. They remind motorists to SLOW DOWN because there is another flagger ahead who will give further instructions for safely crossing through the construction zone. Advance Flaggers cover the STOP side of their STOP/SLOW paddles to eliminate confusion for drivers headed out of the construction zone.
Traffic Control Flagger classes can be found though Southwestern Oregon Community College, so call (541) 888-7328 in Coos Bay, Oregon, or (541) 469-5017 in Brookings. The classes are $85 and students must pre-register.